Coming soon!
Welcome to the GCHWC Spotlight: Showcasing our members, special events, projects and other cool stuff…
April 2014: Larry wins with special custom at 2014 Nationals!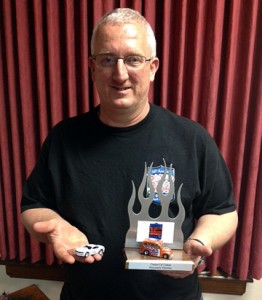 The customs contest at the Hot Wheels Newsletter Nationals is always a huge event with the best in fan-based diecast creations. The GCHWC always fields a number of entries and brings home a fair share of trophies. This year was no exception with Larry F winning Honorable Mention for his "Tie Dye" Camaro. Although Larry won't say exactly how this custom was made, he did say the pattern shown was transferred from a men's neck tie. Way to go Larry!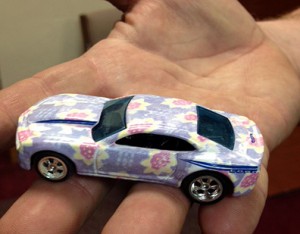 July 2013: As reported on the HWC site, while on tour of a production facility in June, a few Hot Wheels designers (SVandervate, MHeralda and PRiehlman) took the time to personally sign and date around a dozen '07 Mustang Super Treasure Hunts directly from the production line.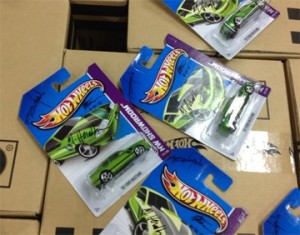 These special cars were then inserted back into cases that were sent out "into the wild". Imagine finding one of these on the pegs! Read more about these very special hunts on the HWC thread (you'll have to be a member / log in). Photo credit: Original HWC post by SVandervate
March 2013: Full Throttle Go-Karting welcomes the GCHWC
For the first few meetings of 2013, the GCHWC has been welcomed to Full Throttle Go-Karting's facility (located in Tri-County) for a meeting venue and a chance to experience their activities.
Full Throttle offers full speed, gas-powered go-kart racing at their spacious indoor facility, a party / meeting room, two full-sized slot-cars and other games.
We've had a great turnout at the last few meetings and have featured several different presentation topics such as "Buying / Selling Diecast online", "Vintage Hot Wheels Sizzlers" and "Photographing Diecast on a Budget"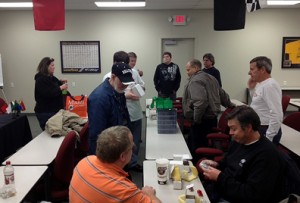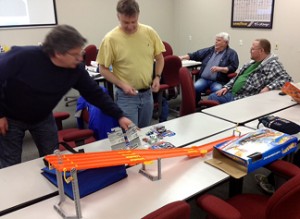 At the March meeting, members learned how to make an inexpensive "light box" to provide ideal lighting for photographing their diecast. With just a little tweaking, we were able to take photos (at the demonstration during the meeting) with amazing results!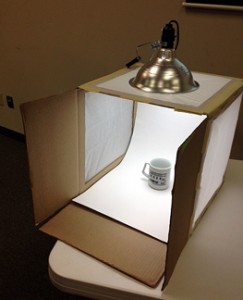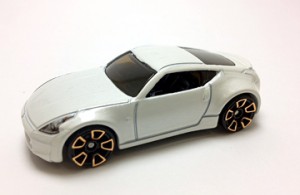 After the meeting, GCHWC members had the chance to strap on a helmet and compete for fastest time on the track….
Or…can try their hand at the 1/32 slot car track setup. Yeah… we're big kids, but it's great fun!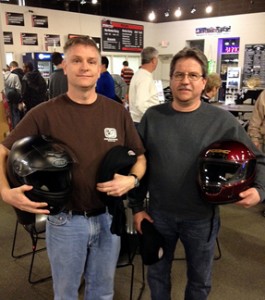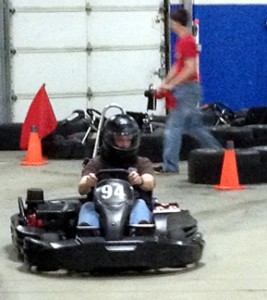 ---
Dec 2012: GCHWC Donates Toys to Local Charities
Thanks to all members that donated toys / diecast to our annual donation to the local chapters of the Ronald McDonald House and the "Toys for Tots" program.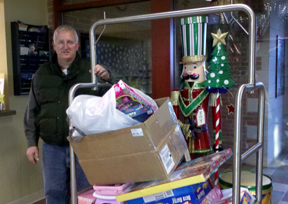 This was our biggest donation to date and we thank you for your generosity in supporting these organizations and their causes!
---
August 2012: Dave and Deb meet KISS in person…and introduce them to diecast!(Submitted by Deb G)
On August 31, 2012, my wife and I went to the KISS concert at Riverbend in Cincinnati, Ohio. We had purchased the VIP backstage passes. I have been a huge fan of KISS since 1973 and have always wanted to meet Paul Stanley.
Upon arrival, we were each given a KISS souvenir bag with KISS merchandise included. We were given access to the venue and souvenir booth prior to all other concert goers. Before the show, we were escorted to a tent behind the stage where KISS performed an acoustic set of about 12 songs for our small group of about 50 people. They even did some non-KISS songs, took requests and were kidding around with everyone.
Once the set was over, each KISS member autographed two items for each person. I had each sign a 1/24 KISS Nascar diecast car that Sterling Marlin dove and one of the new KISS Hot Wheels cars (the one with Paul Stanley on the roof). This special series was just released a few weeks prior to the concert.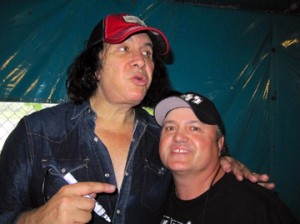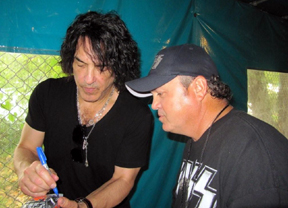 My wife had each member sign the other new KISS Hot Wheels car (the one with Gene Simmons on the roof) and a Mustang "Hot Tracks" KISS car by Racing Champs. Gene Simmons told us that he had not yet seen the newly released KISS Hot Wheels cars and had his person take a photo of them so they could find him a set. It was really something to be the first ones to show Gene Simmons the finalized product…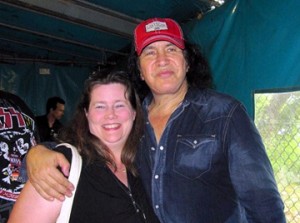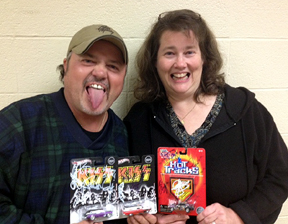 After autographs, we went to our car to put the souvenirs and autographed items away for safekeeping and returned to our seats. On the way we saw Motley Crue take the stage. They came from behind the stage, through the audience and filed directly in front of us. It was awesome!
At 9:00pm, we were lined up and escorted backstage again to have our photos taken with the KISS members, this time in full make-up. We returned to our seats (3 rows from the stage) and watched the KISS concert. It was unbelievably great. My wife got a Tommy Thayer guitar pick that was flicked into the audience, which I now have displayed in the man cave.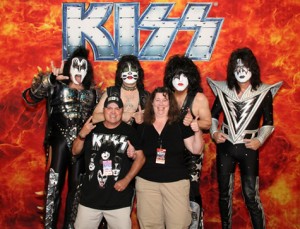 It was truly a once in a lifetime, unforgettable experience!
---
June 2012: Tour of GCHWC member, Cadillac Tim's collection.
When GCHWC member Tim K invited club members out to his house in June for a potluck / grill-out and a tour of his collection, I'm not sure anyone was ready for what they were about to experience. We all knew Tim was an avid Cadillac collector, but only seeing his basement-turned-man-cave in person could really show his outstanding, extensive collection!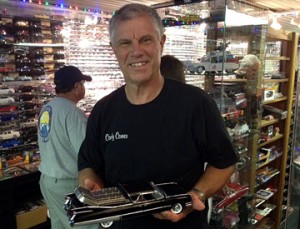 Tim with a larger scale "flower car" hearse
More than 4500+ cars are set up in every type of display case imaginable.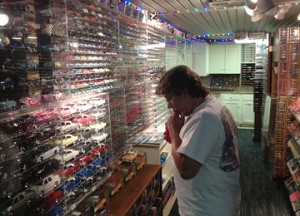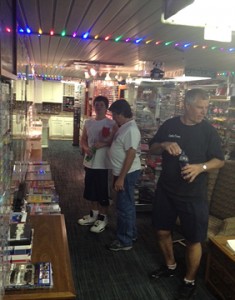 Cadillacs of all scales line the walls and cases…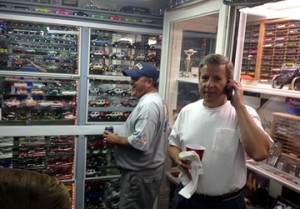 Even the spare bedroom gets the full Cadillac / Route 66 treatment!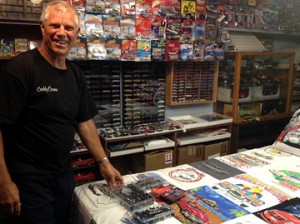 Members even had time to test out Hot Wheels' new 8 foot downhill track complete with electronic finish line.
The GCHWC would like to sincerely thank Tim and Fran for hosting the June meeting and for the tour of Tim's amazing diecast Cadillac collection.
---
April 2012: 2012 Hot Wheels Nationals – Dearborn, Michigan
This year, the Hot Wheels Collectors Nationals convention was held in Dearborn Michigan, drawing diecast fans and collectors from all over the United States. The GCHWC was represented by a few diehard road warriors that made the trip. Our own Deb G (GCHWC member and Club Secretary) put together a recap of the event:
"The 2012 Hot Wheels Nationals were held on April 18th to April 22nd in Dearborn, Michigan. GCHWC members Paul, Bob, Larry, David G, Deb and Mike J attended the event.
David and I arrived about 7:30pm on Friday night. We attended the RLC party and purchased the RLC car which was a pink double vision. They served assorted snacks and featured free soft drinks with and a cash bar. There were prizes for the attendees, however only Mike J was the only one from our club that won a prize (a Larry Wood 35 Anniversary four car set).
After the RLC party, we did some room to room trading until around 11:30pm and then called it a night. The next morning, we were up early, had some breakfast and headed to registration. We registered and purchased one of each of the convention cars. We also picked up our Hot Wheels Newsletter cars and headed over to another popular Nationals feature… the vending machine. David went first and had 4 pulls. On one of the pulls, he won a 1/43 Classics 1971 Plymouth GTX. Although I didn't get lucky on my pulls, other club members racked up the prizes… Larry F took his vending machine pulls on Friday winning the same car as David (the 1971 Plymouth GTX) and Mike J won a track set similar to the one pictured.
Top: Some members scored with the vending machine pulls!
Below: Limited edition 2012 convention cars (from top left in this photo):
Custom VW Drag Truck, Custom Convoy, 67 Camaro, Drag Beetle (Finale car),
Dairy Delivery (Dinner car) and Thunder Roller (Children's Miracle Network car)
We spent the rest of the day doing room to room trading in the hotel. David picked up a few vans and drag buses that he needed and I purchased a few Mustangs for my collection. Although we didn't have any spectacular purchases, there was quite a lot going on in the same hotel. The Sweet Adeline's International had their Great Lakes Chorus Regionals in Dearborn and they were all staying at the same hotel as the Hot Wheels Convention. Throughout the weekend, we were entertained listening to them practicing their songs and performances.
Next, we discovered that the TV show "Hardcore Pawn" is filmed at American Jewelry and Loan in Detroit on 8 Mile. One adventurous Hot Wheel collector went to the store and informed them that there was a Hot Wheels Convention going on at the Hyatt then asked them if they would be interested in coming to the hotel to promote the show. The collector offered his room to sell t-shirts, pose for pictures and sign autographs.
Seth (from the show) and two security guys arrived about 11am on Saturday. David and I got Seth's autograph and took some photos. David, Larry and I each gave one of our RAOK cars to the security guy with the beard shown in the photo. David, Larry and I are going to customize a few cars (in the name of the GCHWC) for American Jewelry and Loan / Hardcore Pawn and mail to them as a thank you for taking the time to come to the convention " – Deb G.
Seth and his security personnel drop in at the Nationals...
Paul, who also attended provided more photos from the trip.Larry catches a few Z's on the way up… and awakes RECHARGED, ready to do some room-to-room trading with Paul!
Favorite of many, the "official" downhill track was put to good use all week. Life-size (1:1) HW themed Camaro on display.